Book Review
by Rosangela C. Taylor
Breaking the Habit of Being Yourself – How to Lose Your Mind and Create a New One
Dr. Joe Dispenza
Personal Improvement, Science, Quantum Thinking
My rate: ♥♥♥♥♥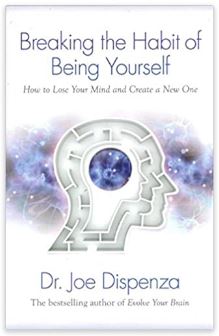 This book provides an excellent education on brain, the physical brain; mind, the abstract part of it; and how they are connected to our reality (i.e. what we experience). The book is divided in three parts, and the first one is a deep well of extraordinary explanations. 
The second and third parts of the book focus more on meditation, repeating many of the concepts presented in part one. To those who understand well about brainwaves and meditation, parts two and three of the book may seem to drag at times, and may cause some loss of engagement. If that happens to you, just skip those parts and keep going toward the end. For total beginners in the quantum concept, this book (or parts of it) may be a little difficult to understand right away, but only persistence and continual exploration of the subject will help one grasp the whole concept. Dr. Joe Dispenza has quite a clear and pleasant way to explain things, so, don't give up! There is a lot to learn in this book, especially for beginners!
I skimmed the meditation process he recommends on part three, for I have my own system in place and it works well for me. However, for beginners or for those people who have already tried to meditate and haven't succeeded yet, I strongly recommend experimenting with Dispenza's approach. I did purchase the MP3 files with his guided meditations (it's optional), and they are very good.
Breaking the Habit of Being Yourself is a well structured and well edited book (I just found a couple of editing flaws, which is completely acceptable and even expected). Dispenza's work and the way he conveys the whole idea are brilliant. Finally, the Afterword section in this book beautifully wraps everything in a profound, well-thought, and highly inspiring way.
This book can be a gem for those who want to understand the intricacies of existing and creating different realities from a quantum perspective.
Thinking of someone who would like to read this?
Please, share!
Have you read this book?
I'd love to know your experience with it!